This Is What a Heavy-Duty Performance Wheelchair Looks Like
It's time to put limited mobility where it belongs — on the sidelines. When adventure calls at a moment's notice, Jazzy EVO 614HD empowers you to pick up and go. That's because it comes engineered with the capabilities that push boundaries of everyday life for the heavy-duty power wheelchair class, with a 450-pound weight capacity. Here's how the Jazzy EVO 614HD pushes the limits. We introduced a new 7.8 km/h top speed. Compared to the average person's walking speed of around 3 km/h, that's cheetah-fast. With a new 3" ground clearance and new 13.75" drive wheels, you sit higher and blaze over uneven terrain like you were born to do it.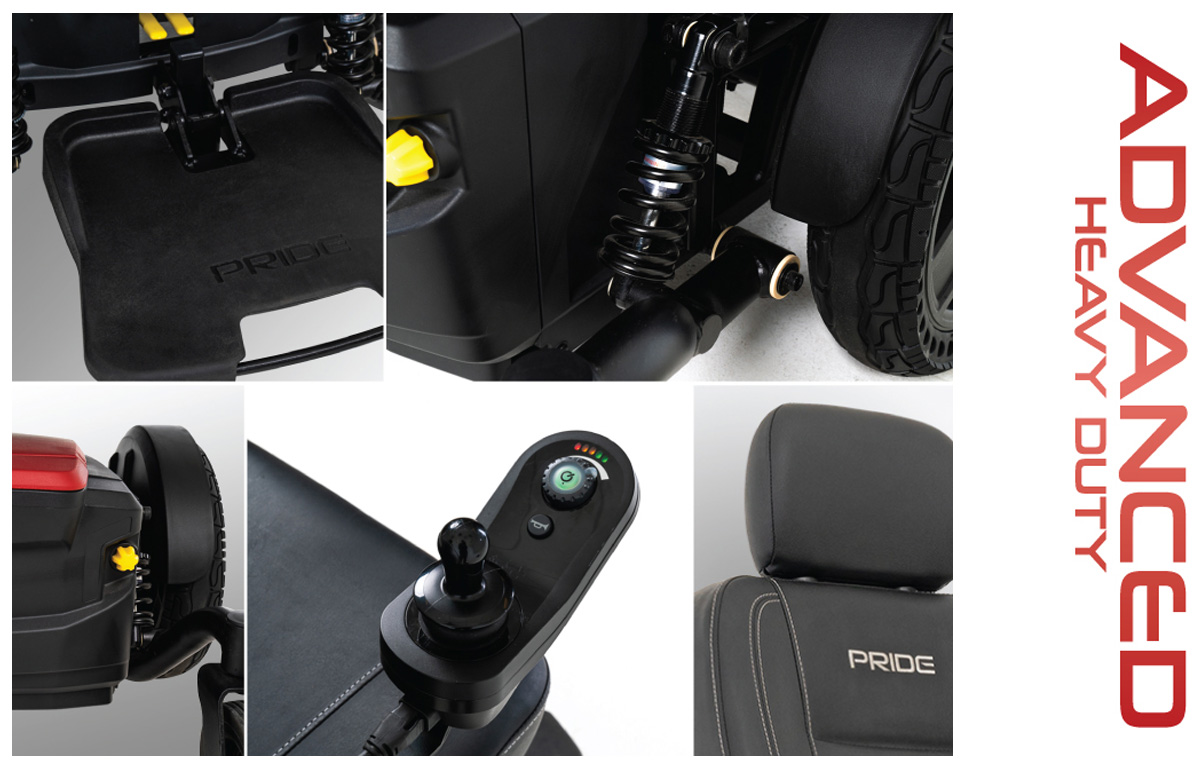 Start writing your can-do list. This is going to be amazing.
You to put off a once-in-a-lifetime trip, here's a reason to put it back in play. Jazzy EVO 614HD gives your imagination the reason to go. Everybody makes lists. We have chore lists for the weekend and prescription lists that we keep filled. We might not write them down, but we also keep lists of what we can reasonably achieve in our lifetimes. With Jazzy EVO 614HD, that list stops looking limited. It becomes open ended.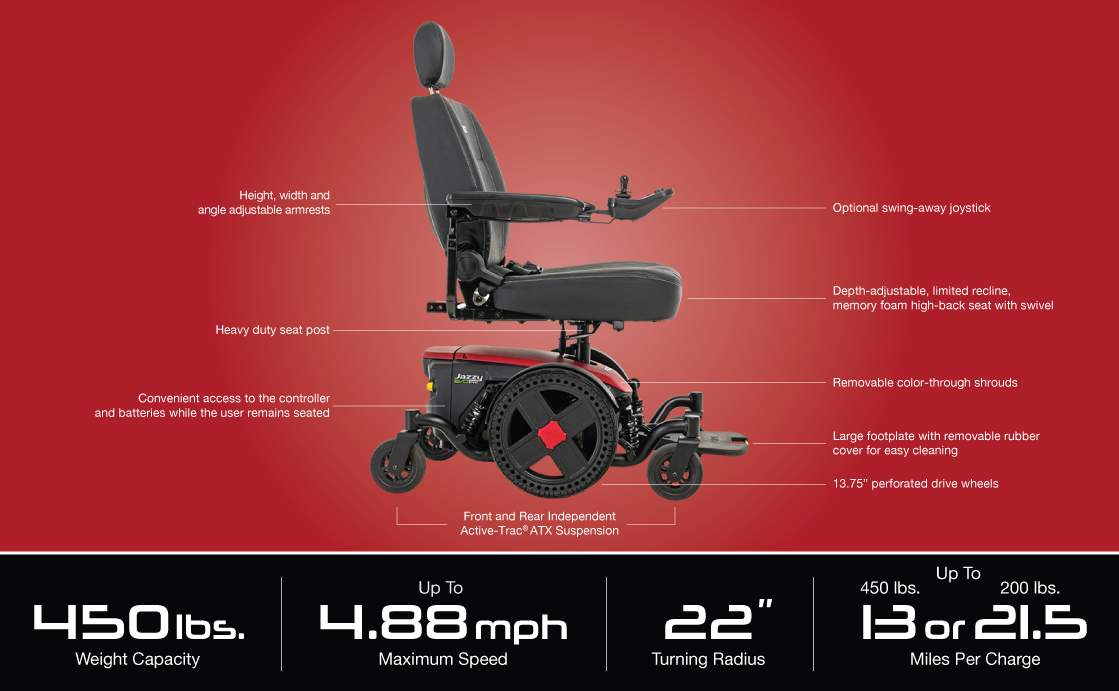 How does Jazzy EVO 614HD get you there?
Jazzy EVO 614HD has tall 13.75-inch drive wheels, the centerpiece for Pride's beloved Mid-Wheel 6 platform. Active-Trac ATX Suspension adapts to the terrain, so grassy fields and paths feel smoother than they ever have before. And now, with a new memory foam seat, your Jazzy EVO 614HD is ready to provide all-day comfort right out of the box.
Jazzy Evo 614 HD Series Features:
New! Dept- adjustable, limited recline memory foam high-back seat with headrest and single heavy-duty seat post allows the user to swivel
New! 13.75" perforated drive tires
New! 60-amp Dynamic LiNX Adjustable joystick speed dial enables you to adjust your speed comfort level
New! New- Removable matte finish color through shrouds and 6-colors
450 lbs. weight capacity
Full independent front and rear Active-Trac ATX Suspension for enhanced performance over more varied terrain
Up to 7.8 km/h
22" turning radius
Up to 35 km per charge at 200lbs.
Flip-up, height adjustable foot platform
In-line joystick mount
Convenient access to the controller and batteries while the user remains seated
*Pride® FDA Class II Medical Devices are designed to aid individuals with mobility impairments
Specifications
| | |
| --- | --- |
| Colour | Black, Iceberg Blue, Jazzy Red, Robin's Egg, Sugarplum, White |
| Battery Type | Sealed Lead Acid |
| Weight Capacity | 450 lbs |
| Width | 25.75" |
| Length | 40.5" |
| Maximum Speed | Up to 7.8 km/h |
| Ground Clearance | 3" |
| Front Wheels | 6" casters |
| Drive Wheels | 13.75" solid |
| Rear Wheels | 6" casters |
| Drivetrain | Two motor, in-line, HD motors |
| Braking System | Regenerative and electro-mechanical |
| Suspension Type | Full independent front and rear Active-Trac® (ATX) Suspension |
| Standard Seat Sizes | High-back, memory foam / Black vinyl / 8"x18"-20", 20"x18"-20", 22"x20-"-22" |
| Seat-to-Floor Range | 22"-24" |
| Seat Weight(s) | 57.8 lbs |
| Maximum Seat Size | 22"W-22"D |
| Power Elevating Seat | NA |
| Standard Electronics | 60A, Dynamic Linx |
| Battery Size(s) | (2) NF-22 |
| Battery Weight | 36-lbs. each |
| Battery Charger | 5-amp, off-board |
| Per Charge Range | 13 miles at 450 lbs., 21.5 miles at 200 lbs. |
| Weight of Heaviest Piece | 125.7 lbs.(base) |
| Total Weight | 255.5 lbs. w/ batteries and seat |
Testing Standards & Warranty
Meeting and Exceeding High Standards for your Peace of Mind.
Your Pride product has undergone thorough product testing to ensure safety, durability and performance. Our power chairs, scooters and lift chairs are Food & Drug Administration (FDA) approved medical products that require specific testing prior to release for public use. The testing requirements accepted by the FDA were developed by the American National Standards Institute/Rehabilitation Engineering & Assistive Technology Society of North America (ANSI/RESNA). The tests are conducted in accordance with the requirements of the ANSI/RESNA Test Standards and complement an additional stringent testing regiment developed by Pride's Research & Development Team. All products have passed, and in many cases, exceeded test criteria set forth, assuring the high level of quality synonymous with Pride.
Some of the items our testing criteria include are:
Product Stability & Brakes Effectiveness Tests
Fatigue & Impact Strength Verification Tests
Overall Product Performance Verification
Dimensional Requirement Compliance
Product Durability & Reliability Testing
Material Protective Coating Testing Verification
Misuse and Abuse Testing
Ergonomic Verification
Environmental Testing for Adverse Weather Operation Conditions
Electronic Systems Performance and Durability
Chemical and Bio-Contamination Analysis Testing for Toxicity Verification
Cal 117 Flammability Test Compliance for Seating Foam and Fabric Components
UL94VO Flammability Testing for Compliance of Plastic Components
Electromagnetic Compatibility (EMC)
---
Warranty
5-Year limited warranty on frame
24-month limited warranty on electronics
24-month limited warranty on drive motors
13-month limited warranty on batteries