The Lithium-Ion Advantage
Pride is excited to introduce the next generation of lithium battery technology in the new Jazzy EVO 613 Li. Lithium-ion batteries pack more power into smaller, lighter units and charge in under 8 hours. This lets you enjoy a longer battery life and greater reliability! A single charge can carry you up to 33 km at top speeds of 8.2 km/h.
Synergy Seating Option
You know the expression the sum is often greater than its parts? This was the driving force behind our new Synergy Seating option for the Jazzy EVO 613. Synergy seating offers a clean, streamlined appearance and ease of adjustment. Our unique user-friendly design allows users to make height, width, depth, and back angle adjustments quickly and easily in the field. Contact your local provider today to discuss funding options for the Jazzy EVO 613 with Synergy Seating!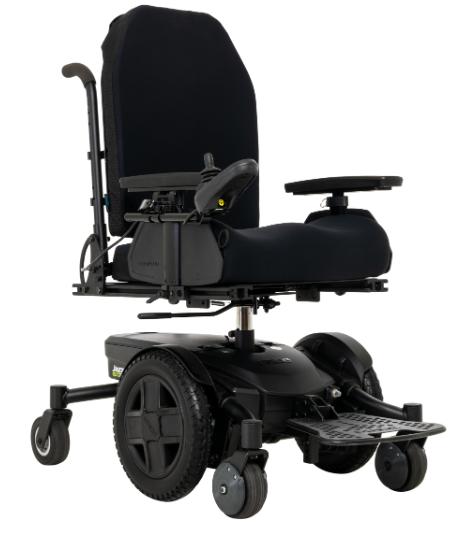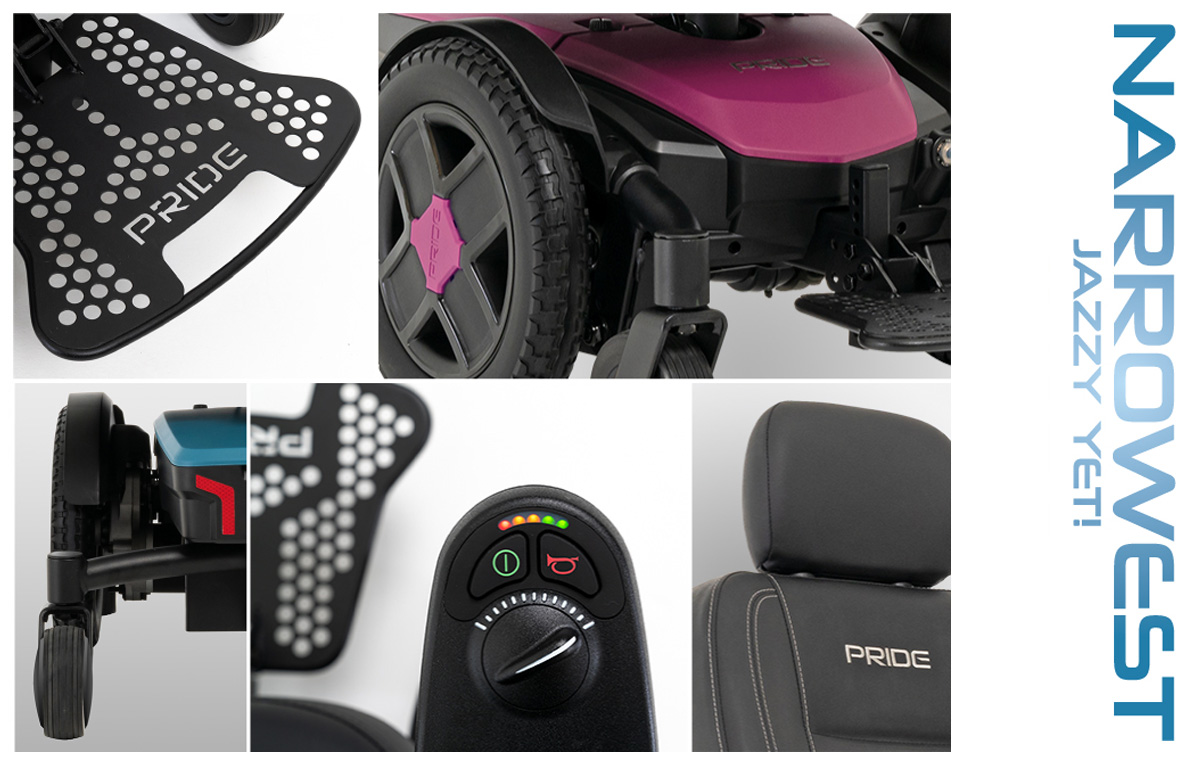 Narrow It Down
The Jazzy EVO 613 series provides the freedom to navigate small spaces and tight corners indoors with a narrow base width of only 22". Experience a narrow 22 inches wide at the base and a 22-inch turning radius. Not only is it one of the most powerful power wheelchairs on the market, but it's also the most narrow and maneuverable.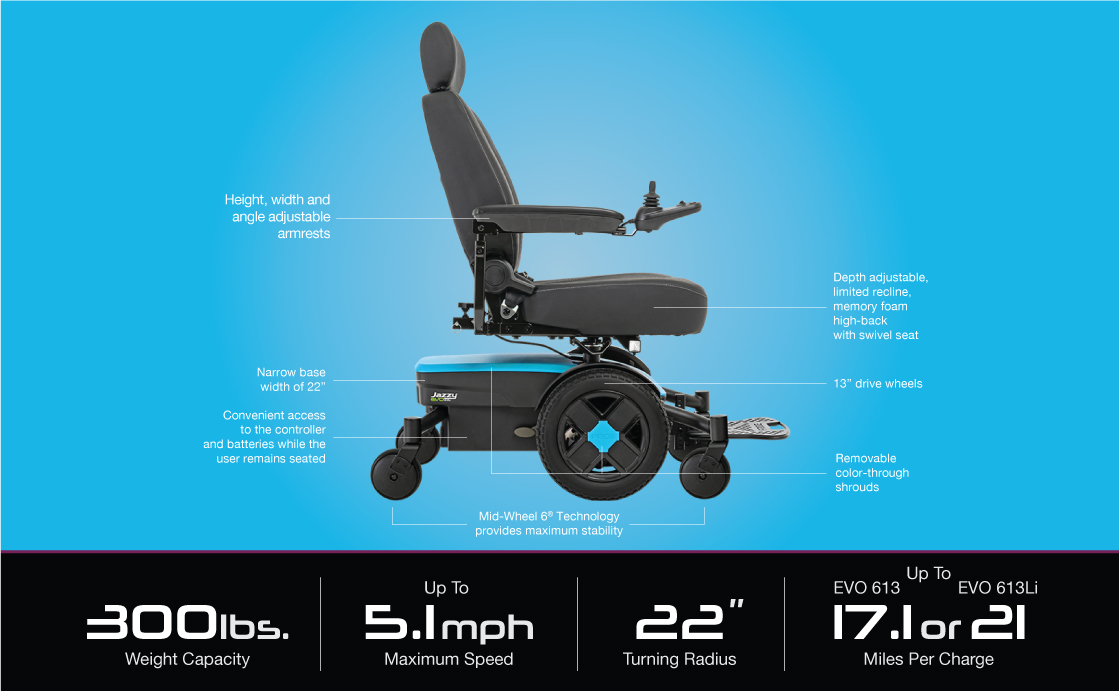 All You Need
The Jazzy EVO 613 series gives you all the best that Pride Mobility has to offer, with patented Active-Trac Suspension and exclusive Mid-Wheel 6 Technology that provides you with a smoother and more stable ride. Get all the Jazzy Power Chair features you know and love, including 13" solid drive wheels, two-motor in-line mid-wheel drive, a weight capacity of 300 lbs., and so much more. We've also upgraded the look and feel, with a standard seat size of 18" x 18"-20" and 20" x 18"-20" and a selection of new colours to suit any taste and personality.
   Jazzy Evo 613 Series Features:
300 lb. weight capacity
Narrow base width of only 22"
Maximum speed up to 5.1 mph
3" Ground clearance
13" solid drive tires
Per charge range up to 17 miles with U1 SLA batteries and up to 21 miles with lithium ion (200 lbs.)
Mid-wheel 6 Technology offers tight turning radius around doorways and corners
Pride's patented Active-Trac (ATX) Suspension ensures a smooth ride experience over uneven surfaces
Memory foam high-back seat with single seat post allows the user to swivel
Available depth-adjustable seat sizes: 16" W x16"-18" D, 18" W x 18"-20" D, 20" W x 18"-20"
Height, width, and angle adjustable armrests
Flip-up, height, angle, and depth adjustable foot platform
Removable matte-finish color-through shrouds
*Pride® FDA Class II Medical Devices are designed to aid individuals with mobility impairments
Specifications
| | |
| --- | --- |
| Colour | Black, Iceberg Blue, Jazzy Red, Robin's Egg, Sugarplum, White |
| Battery Type | Lithium-ion, Sealed Lead Acid |
| Suspension | Active-Trac (ATX) |
| Weight Capacity | 300 lbs |
| Maximum Speed | Up to 5.1 mph |
| Turning Radius | 22" |
| Overall Length | 41" with footrest (35" without) |
| Overall Width | 25.5" |
| Front Casters | 5" |
| Drive Wheels | 13" solid |
| Rear Casters | 5" |
| Range Per Charge | EVO 613: 14.4 miles/EVO 613 Li: 14.6 miles |
| Total Weight | EVO 613: 189 lbs./EVO 613 Li: 160.5 lbs. |
| High-Back Seat Size | 16"x16"-18" / 18"x18"-20" / 20"x18"-20" |
| Synergy Seat Size | 16"-20"x16"-20" |
| High-Back Seat-to-Floor Range | 19.75"-21.25" |
| Synergy Seat-to-Floor Range | 17.5"-18.5" |
| Battery Requirements | EVO 613: (2) 12 volt, U-1/EVO 613 Li: (1) Li-ion phosphate |
| Battery Charger | Off-board, 3.5 amp |
Testing Standards & Warranty
Meeting and Exceeding High Standards for your Peace of Mind.
The testing requirements accepted by the FDA have been developed by the American National Standards Institute/Rehabilitation Engineering & Assistive Technology Society of North America (ANSI/RESNA). Our tests are conducted in accordance with the requirements of the ANSI/RESNA Test Standards and complement an additional strict testing regiment developed by Pride's Research & Development Team. All products have passed, and in many cases, exceeded test criteria set forth, assuring the high level of quality that Pride is known for.
Some of the items our testing criteria include are:
Product Stability & Brakes Effectiveness Tests
Fatigue & Impact Strength Verification Tests
Overall Product Performance Verification
Dimensional Requirement Compliance
Product Durability & Reliability Testing
Material Protective Coating Testing Verification
Misuse and Abuse Testing
Ergonomic Verification
Environmental Testing for Adverse Weather Operation Conditions
Electronic Systems Performance and Durability
Chemical and Bio-Contamination Analysis Testing for Toxicity Verification
Cal 117 Flammability Test Compliance for Seating Foam and Fabric Components
UL94VO Flammability Testing for Compliance of Plastic Components
Electromagnetic Compatibility (EMC)
---
Warranty
5-Year limited warranty on frame
13-month limited warranty on electronics
13-monthlimited warranty on drive motors
3-year limited warranty on Lithium-Ion batteries
13-month limited warranty on SLA batteries