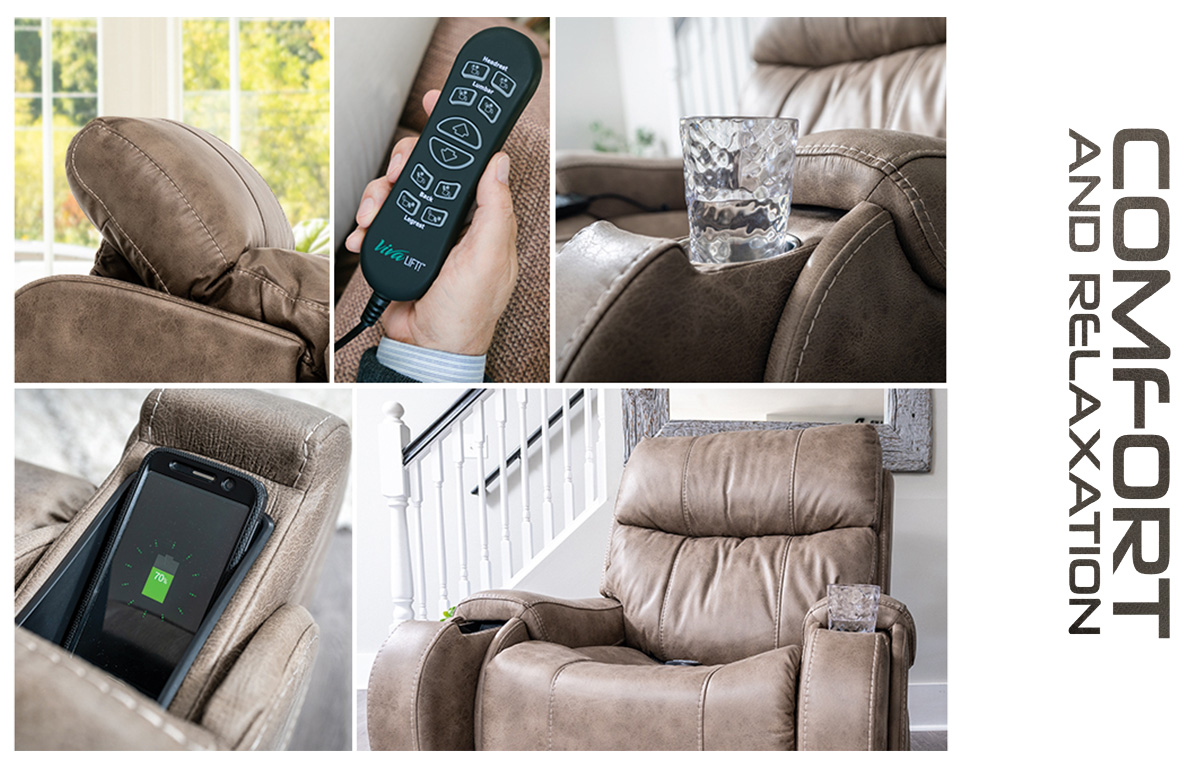 Relaxation Destination
Comfort and convenience go hand-in-hand in the Atlas Plus 2, with plenty of extras to pique your interest. Get ready to hunker down for the next big game or your weekly family movie night with relaxation and ease as you enjoy the hideaway cup holder and USB charging port are at your fingertips - simply pop out the sliding phone charger, drop in your smartphone into the charging station, and viola! Your phone starts charging without even having to plug it in. The Atlas Plus 2 also comes equipped with a lithium battery backup, which means that in case of a power outage your chair will still be at the ready.
Multiple Standard Options
The VivaLift! Atlas Plus 2 Power Lift Recliner gives you the power of total control in your hands! Find your fit with 4 different positioning options and footrest extension. Power headrest, power lumbar, and a 4-motor recliner all point to an endless array of customizable options. With a weight capacity of up to 400 lbs., everyone will be able to find their best fit with the Atlas Plus 2.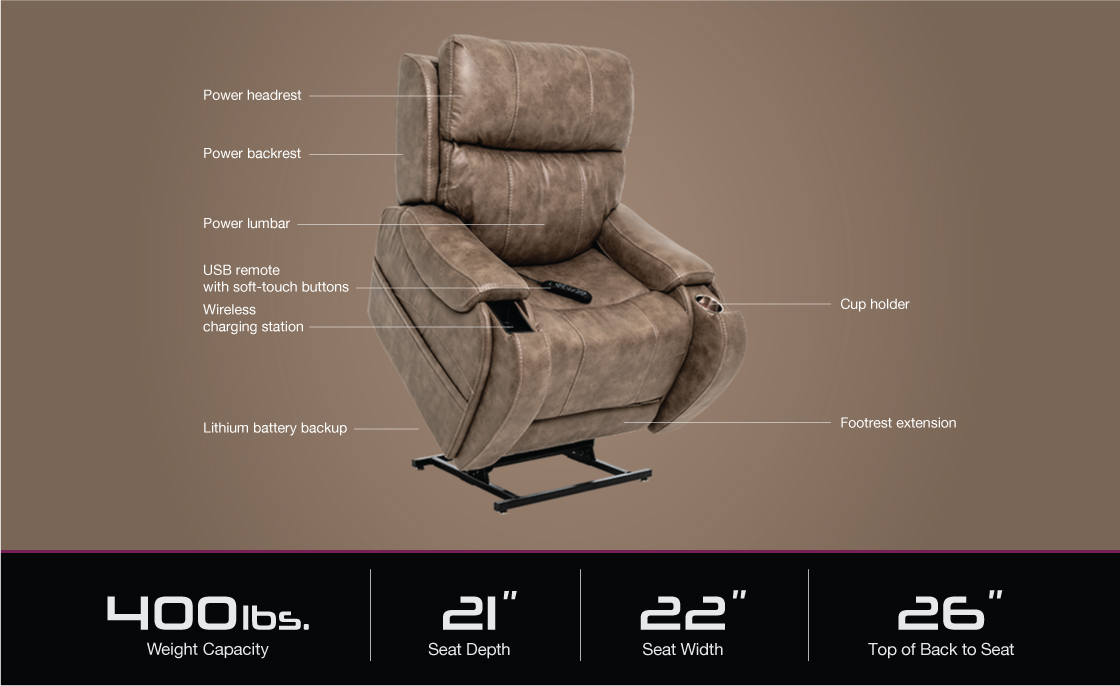 In The Eye Of The Beholder
As beautiful as it is practical, the Atlas Plus 2 is one of the most elegant lift chairs on the market and an example of form and function in perfect harmony. With three gorgeous faux-leather fabric shades to choose from and wide, decorative upholstery stitching, the Atlas Plus 2 will seamlessly complement your home's personal style.
   PLR2985 Features:
Wireless charging station
Hideaway cup holder
Trendelenburg-like positioning
Ergonomically designed memory button hand control
Power headrest
Power backrest
Power lumbar
Lithium battery backup
Footrest extension
*Pride® FDA Class II Medical Devices are designed to aid individuals with mobility impairments
Specifications
| | |
| --- | --- |
| VivaLift Colour | Badlands Mushroom, Badlands Steel, Badlands Walnut, Crypton Aria Cool Grey, Crypton Aria Espresso |
| VivaLift Back Type | Club |
| Positioning | Infinite Position |
| Size | Medium |
| Special Features | Cup Holder, Wireless Phone Charger |
Testing Standards & Warranty
Meeting and Exceeding High Standards for your Peace of Mind.
The testing requirements accepted by the FDA have been developed by the American National Standards Institute/Rehabilitation Engineering & Assistive Technology Society of North America (ANSI/RESNA). Our tests are conducted in accordance with the requirements of the ANSI/RESNA Test Standards and complement an additional strict testing regiment developed by Pride's Research & Development Team. All products have passed, and in many cases, exceeded test criteria set forth, assuring the high level of quality that Pride is known for. In addition to "real world" testing developed by Pride during more than thirty years of designing Lift Chairs, our products are subjected to a host of standardized testing criteria, including but not limited to:
ANSI/AAMI/ES60601-1, Medical Electrical Equipment--Part 1: General Requirements for Basic Safety and Essential Performance, and ANSI/AAMI/IEC 60601-1-2, Medical Electrical Equipment--Part 1-2: General Requirements for Basic Safety and Essential Performance--Collateral Standard: Electromagnetic Disturbances--Requirements and Tests
ANSI/AAMI/ISO 10993-5, Biological Evaluation of Medical Devices--Part 5: Tests for In Vitro Cytotoxicity, and ANSI/AAMI/ISO 10993-10, Biological Evaluation of Medical Devices--Part 10: Tests for Irritation and Skin Sensitization
IEC 62304, Medical Device Software--Software Life Cycle Processes
IEC 60335-1:2012, Safety of Household Electrical Appliances
ISO 14971 Medical devices – Application of risk management to medical devices
EN 12182, Assistive products for persons with disability. General requirements and test methods
Static Load and Stability Tests
Strength & Fatigue Verification Tests
Overall Product Performance Verification
Dimensional Requirement Compliance
Armrest Force Test
Material Protective Coating Testing Verification
Misuse and Abuse Testing
Ergonomic Verification
Environmental Testing for Adverse Conditions
Electronic Systems Performance and Durability
Chemical and Bio-Contamination Analysis Testing for Toxicity Verification
Cal 117 Flammability Test Compliance for Seating Foam and Fabric Components
UL94VO Flammability Testing for Compliance of Plastic Components
Electromagnetic Compatibility (EMC)
---
Warranty