Next-level comfort, Weightless Tilt takes VivaLift! Even Further
Nothing else tilts like the VivaLift! Ultra. Ultra offers a superior, restorative relaxation experience with even more position possibilities. True to its name, VivaLift! Ultra has three different heating pads in the shoulders, lumbar and seat. Plus, the all-new air bladder massage system applies gentle pressure to your lower back, with three intensity settings to soothe your aches away. Of course, the Ultra features the discreet hideaway cup holder and wireless charging station. These favorite convenience features are what Pride customers have grown to love. VivaLift! Ultra comes in three sizes: small, medium and large. It also comes in four standard fabric colors: Capriccio cappucino, dove, slate and smoke.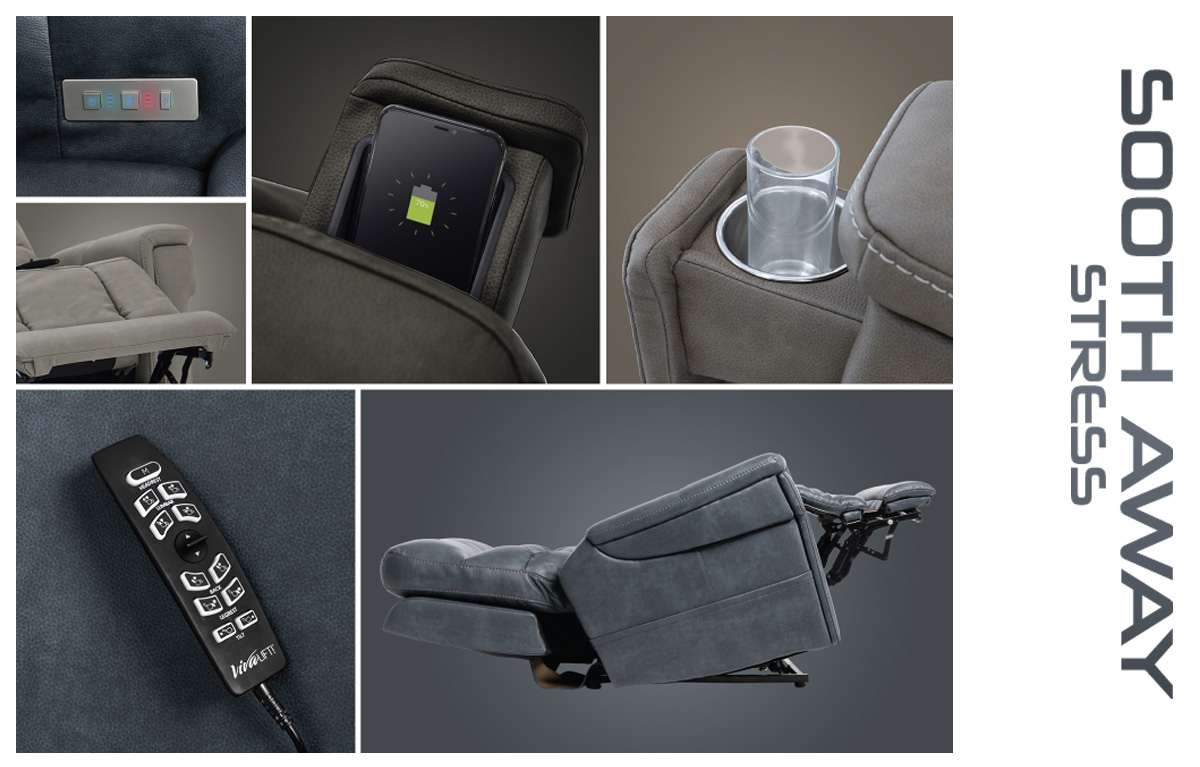 Breaking Down VivaLift! Tilt
If a recliner leans back, isn't it already tilting? Great question! It comes down to the pivot point. When a typical recliner leans back, everything pivots from the base of the backrest and the top of the footrest. With VivaLift! Tilt, Pride added a third dimension. VivaLift! Ultra pivots from the rear of the chair, elevating the front of the seat, similar to a rocking chair. This innovative design provides a seriously comfortable Weightless Tilt experience, reclines your body with the legs above the heart level, distributing weight and pressure evenly along the body.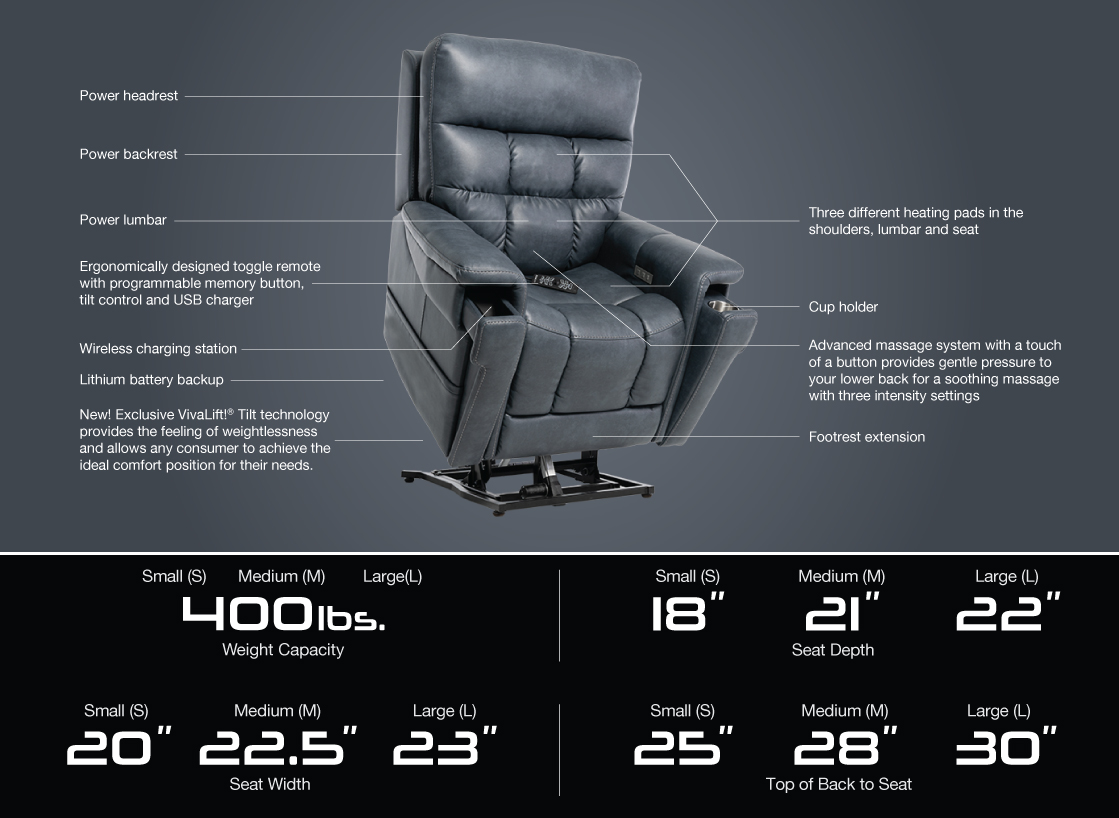 PLR-4955 Features:
400 lb. weight capacity
Exclusive Weightless Tilt reclines the lift chair into a recline position where one's knees are elevated above your heart, providing the feeling of weightlessness
Advanced massage system with a touch of a button provides gentle pressure to your lower back for a soothing massage with three intensity settings
Heat System with three conveniently located heat pads in the shoulders, lumbar and seat regions of the chair with three heat levels
Easily accessible heat and massage buttons on the inside of the armrest
Ergonomically designed toggle remote
True-infinite positioning enables the backrest and footrest to move independently from one another so that a variety of positions can be reached
Hideaway wireless charging station conveniently charges your phone
Hideaway cup holder keeps your beverage close at hand
The power headrest lifts your head, neck, and shoulders for maximum support
The upward lift offers convenient stand assist for getting in and out of the recliner
The power lumbar enables you to personalize you comfort
The footrest extension allows you to relax and stretch out completely
The backrest moves up and down independently to help you find the perfect position
Lithium battery backup ensures your recliner is operational when the power goes out
Available in three sizes Small, Medium, and Large
Standard Capriccio fabrics: Cappuccino, Dove, Slate, Smoke
   Toggle Remote
Easy-to-use toggle in the middle of the remote performs the up/down and recline positions
One programmable memory position button

Find your desired position, hold down the memory button at the same time until the remote starts flashing
When the remote starts to flash, press the memory button to save your favorite position

Adjust the power tilt, lumbar, headrest functions independently with a touch of a button
Convenient USB charger port allows you to charge your smart device
*Pride® FDA Class II Medical Devices are designed to aid individuals with mobility impairments
Specifications
| | |
| --- | --- |
| VivaLift Colour | Capriccio Cappuccino, Capriccio Dove, Capriccio Slate, Capriccio Smoke |
| Size | Small, Medium, Large |
| VivaLift Back Type | Deluxe Biscuit |
| Positioning | Weightless Tilt |
| Special Features | Cup Holder, Heat, Massage, Wireless Phone Charger |
Testing Standards & Warranty
VivaLift!® Ultra - PLR4955 Testing Standards & Warranty
FDA Class II Medical Device*
Meeting and Exceeding High Standards for your Peace of Mind.
The testing requirements accepted by the FDA have been developed by the American National Standards Institute/Rehabilitation Engineering & Assistive Technology Society of North America (ANSI/RESNA). Our tests are conducted in accordance with the requirements of the ANSI/RESNA Test Standards and complement an additional strict testing regiment developed by Pride's Research & Development Team. All products have passed, and in many cases, exceeded test criteria set forth, assuring the high level of quality that Pride is known for. In addition to "real world" testing developed by Pride during more than thirty years of designing Lift Chairs, our products are subjected to a host of standardized testing criteria, including but not limited to:
ANSI/AAMI/ES60601-1, Medical Electrical Equipment--Part 1: General Requirements for Basic Safety and Essential Performance, and ANSI/AAMI/IEC 60601-1-2, Medical Electrical Equipment--Part 1-2: General Requirements for Basic Safety and Essential Performance--Collateral Standard: Electromagnetic Disturbances--Requirements and Tests
ANSI/AAMI/ISO 10993-5, Biological Evaluation of Medical Devices--Part 5: Tests for In Vitro Cytotoxicity, and ANSI/AAMI/ISO 10993-10, Biological Evaluation of Medical Devices--Part 10: Tests for Irritation and Skin Sensitization
IEC 62304, Medical Device Software--Software Life Cycle Processes
IEC 60335-1:2012, Safety of Household Electrical Appliances
ISO 14971 Medical devices – Application of risk management to medical devices
EN 12182, Assistive products for persons with disability. General requirements and test methods
Static Load and Stability Tests
Strength & Fatigue Verification Tests
Overall Product Performance Verification
Dimensional Requirement Compliance
Armrest Force Test
Material Protective Coating Testing Verification
Misuse and Abuse Testing
Ergonomic Verification
Environmental Testing for Adverse Conditions
Electronic Systems Performance and Durability
Chemical and Bio-Contamination Analysis Testing for Toxicity Verification
Cal 117 Flammability Test Compliance for Seating Foam and Fabric Components
UL94VO Flammability Testing for Compliance of Plastic Components
Electromagnetic Compatibility (EMC)