The New Standard
The Tranquil 2 has all the same specifications as the original Tranquil, alongside the addition of trendelenburg-like positioning and a memory hand control that allows you to save your favourite positions quickly and easily. The new benchmark for power lift recliners is here. With decades of progressing the power lift recliner industry, Pride Mobility has set the standard for luxurious, high-quality lift chairs with our VivaLift! Collection. Now, we're moving the benchmark once more with our VivaLift! Tranquil 2 Collection of top-tier power lift recliners. These lift chairs are everything a lift chair should be and more. The VivaLift! Tranquil 2 Collection has all the functions and features of the original VivaLift! Tranquil - a lightweight yet sturdy frame, power lumbar, and performance fabric options - with the added benefits that will now be the standard in all VivaLift! 2 models, refined for your comfort and convenience.
Limitless Positioning
Brand new to the Tranquil Collection, Infinite positioning takes on new meaning with added Trendelenburg-like capability, which raises the feet up above the head. This has the medical benefits to reverse hypotension, reduce leg swelling, and more. It's also perfect for relaxing. A power backrest and footrest that move independently provide users with unrivaled customized positioning. What's your ultimate comfortable position? Find out with the VivaLift! Tranquil 2.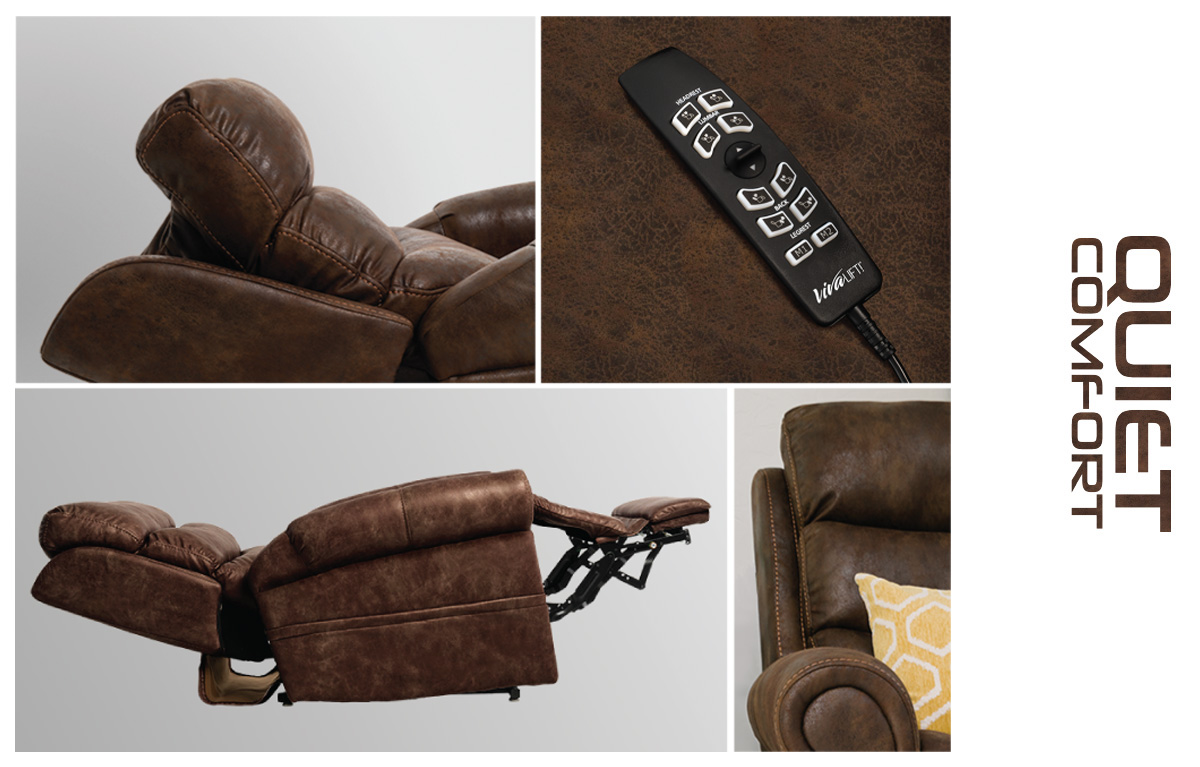 Smart Chair Technology
When you're choosing a lift chair, you're looking for quality, style, and above all else, comfort is key. That's why we've desiged the VivaLift! Tranquil 2 with your comfort at the forefront. Can't remember whether you prefer that footrest up or down? The ergonomically designed memory button hand control allows you to easily store two separate custom positioning settings in one of two memory buttons. Power outage? No problem! As with all VivaLift! models, the lithium battery backup ensures your recliner keeps going when the power goes out.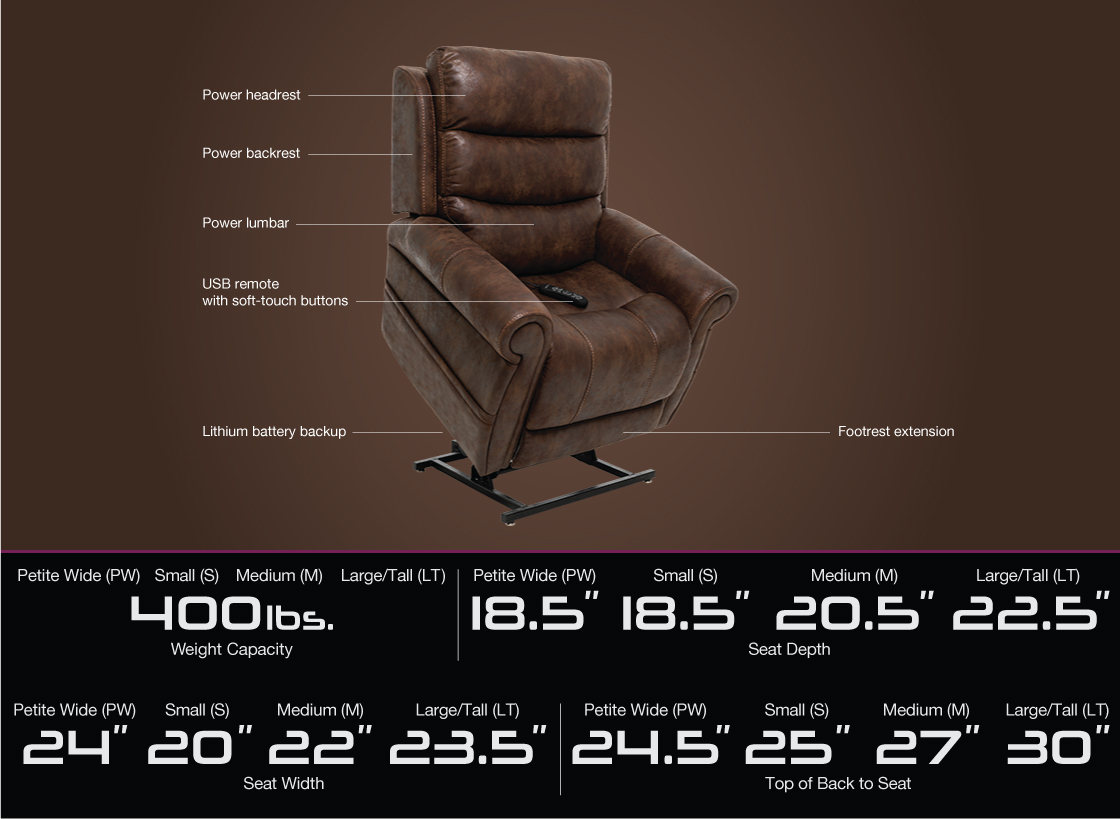 PLR-935 Features:
Trendelenburg-like positioning
Ergonomically designed memory button hand control
Power headrest
Power backrest
Power lumbar
Lithium battery backup
Footrest extension
*Pride® FDA Class II Medical Devices are designed to aid individuals with mobility impairments
Specifications
| | |
| --- | --- |
| VivaLift Colour | Astro Brown, Astro Grey, Astro Mushroom, Capriccio Dove, Capriccio Smoke, Crypton Aria Cool Grey, Crypton Aria Espresso |
| Size | Small, Petite/Wide, Medium, Large/Tall |
| VivaLift Back Type | Waterfall |
| Positioning | Infinite Position |
Testing Standards & Warranty
Meeting and Exceeding High Standards for your Peace of Mind.
The testing requirements accepted by the FDA have been developed by the American National Standards Institute/Rehabilitation Engineering & Assistive Technology Society of North America (ANSI/RESNA). Our tests are conducted in accordance with the requirements of the ANSI/RESNA Test Standards and complement an additional strict testing regiment developed by Pride's Research & Development Team. All products have passed, and in many cases, exceeded test criteria set forth, assuring the high level of quality that Pride is known for. In addition to "real world" testing developed by Pride during more than thirty years of designing Lift Chairs, our products are subjected to a host of standardized testing criteria, including but not limited to:
ANSI/AAMI/ES60601-1, Medical Electrical Equipment--Part 1: General Requirements for Basic Safety and Essential Performance, and ANSI/AAMI/IEC 60601-1-2, Medical Electrical Equipment--Part 1-2: General Requirements for Basic Safety and Essential Performance--Collateral Standard: Electromagnetic Disturbances--Requirements and Tests
ANSI/AAMI/ISO 10993-5, Biological Evaluation of Medical Devices--Part 5: Tests for In Vitro Cytotoxicity, and ANSI/AAMI/ISO 10993-10, Biological Evaluation of Medical Devices--Part 10: Tests for Irritation and Skin Sensitization
IEC 62304, Medical Device Software--Software Life Cycle Processes
IEC 60335-1:2012, Safety of Household Electrical Appliances
ISO 14971 Medical devices – Application of risk management to medical devices
EN 12182, Assistive products for persons with disability. General requirements and test methods
Static Load and Stability Tests
Strength & Fatigue Verification Tests
Overall Product Performance Verification
Dimensional Requirement Compliance
Armrest Force Test
Material Protective Coating Testing Verification
Misuse and Abuse Testing
Ergonomic Verification
Environmental Testing for Adverse Conditions
Electronic Systems Performance and Durability
Chemical and Bio-Contamination Analysis Testing for Toxicity Verification
Cal 117 Flammability Test Compliance for Seating Foam and Fabric Components
UL94VO Flammability Testing for Compliance of Plastic Components
Electromagnetic Compatibility (EMC)
---
Warranty