Unlimited Positioning Potential
Infinite positioning takes on new meaning with added Trendelenburg capability, and a power backrest and footrest that move independently, providing unrivalled customized positioning for the user. What's your ultimate comfortable position? Find out with the Radiance Collection.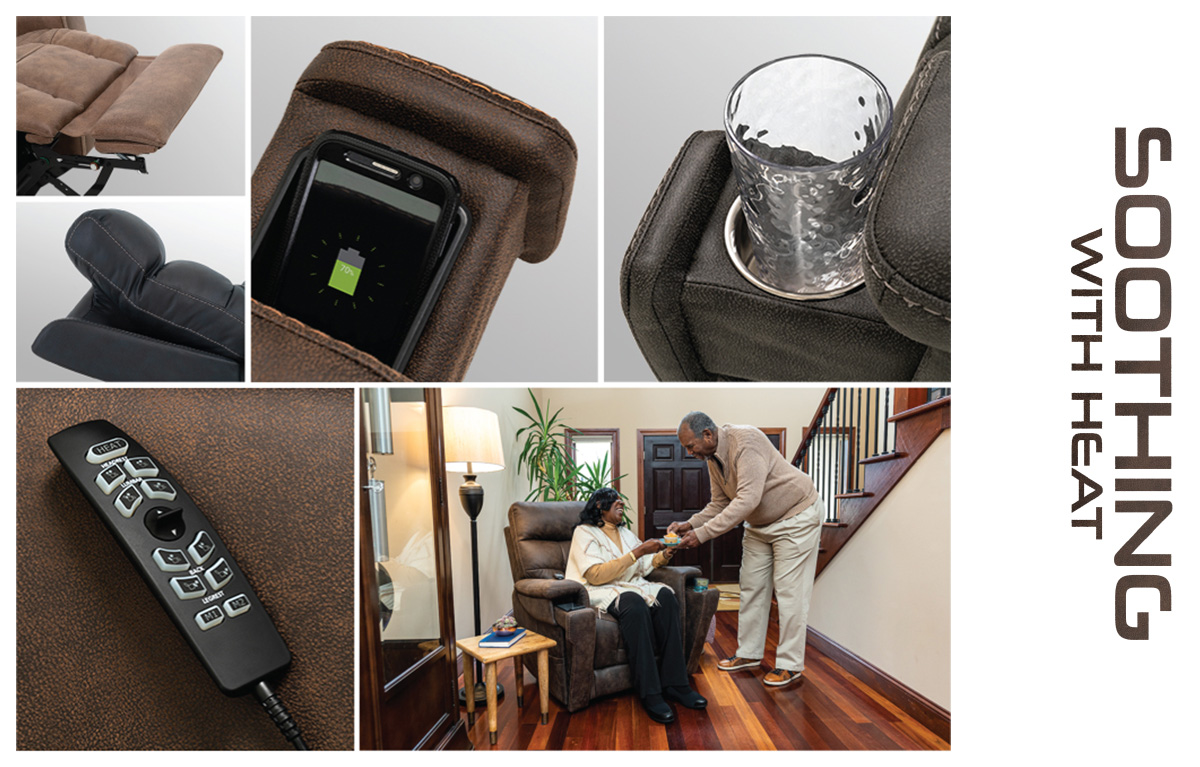 Our Smartest Power Lift Recliner Ever
Being comfortable shouldn't be hard, that's why we designed the Radiance for peace of mind. Can't remember whether you prefer that footrest up or down? The all-new ergonomic toggle remote allows you to easily store all your custom positioning in one of two memory buttons. Waiting for that call from your family? Slip your smart phone into the retractable wireless charging station to make sure you always keep in touch. Power outage? No problem! The lithium battery backup ensures your recliner keeps going when the power goes out.
Stay Glowing and Comfortable
Are you made for the summer and love that heat? The Radiance features a brand new heat system with three conveniently located heat pads in the shoulders, lumbar and seat regions of the chair. Adjust your heat level according to your needs and soothe those tired muscles!
New hand control
Take your comfort into your own hands with the new ergonomically designed toggle remote that has two programmable memory position buttons. It's easy for you to obtain maximum comfort with just the touch of a button. This hand control also features a USB port to conveniently charge your smart devices. 
LEARN MORE...
Are you ready to melt into the ultimate, warming relaxation experience? Find a VivaLift! provider near you and ask about the VivaLift! Radiance Power Recliner.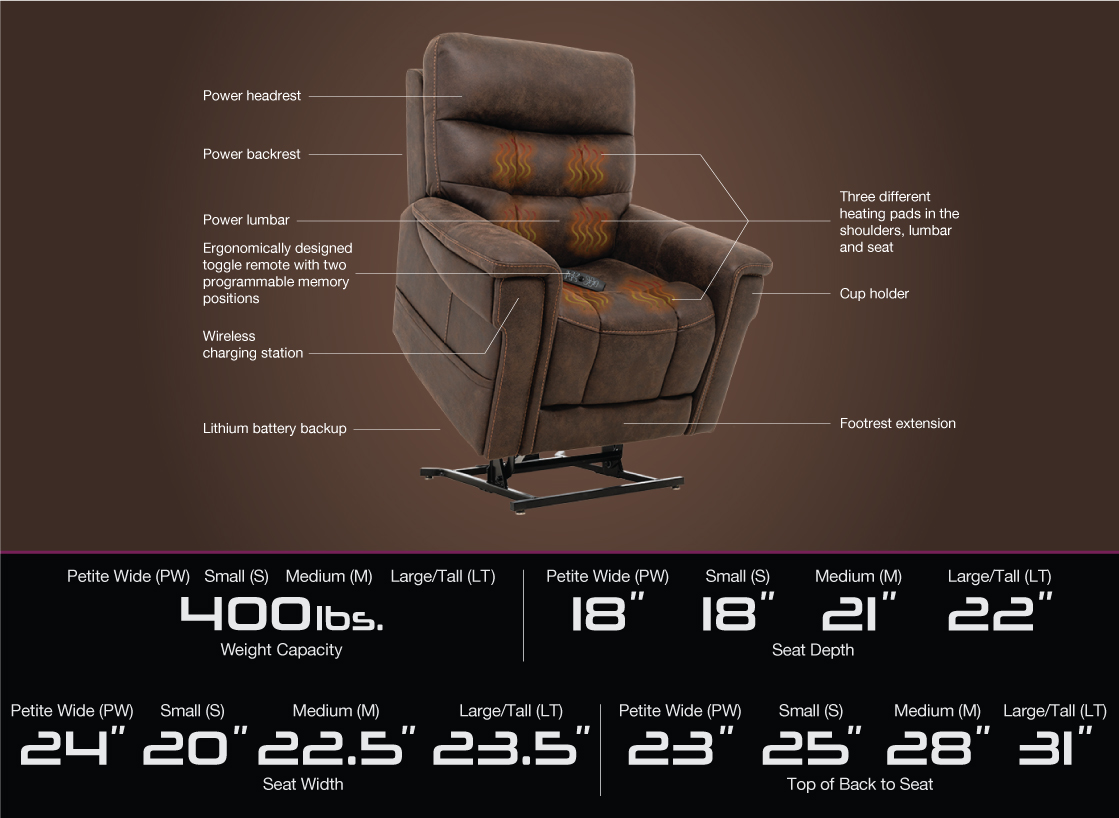 PLR-3955 Features:
400 lb. weight capacity
New! Heat System with three conveniently located heat pads in the shoulders, lumbar and seat regions of the chair
New! Ergonomically designed toggle remote
New! True-infinite positioning enables the backrest and footrest to move independently from one another so that a variety of positions can be reached
Hideaway wireless charging station conveniently charges your phone
Hideaway cup holder keeps your beverage close at hand
The power headrest lifts your head, neck, and shoulders for maximum support
The upward lift offers convenient stand assist for getting in and out of the recliner
The power lumbar enables you to personalize you comfort
The footrest extension allows you to relax and stretch out completely
The backrest moves up and down independently to help you find the perfect position
Lithium battery backup ensures your recliner is operational when the power goes out
Available in four sizes Petite Wide, Small, Medium, and Large/Tall
Standard fabrics: Canyon Silt, Ocean, Walnut Steel
New Toggle Remote
Easy-to-use toggle in the middle of the remote performs the up/down and recline positions
Heat System
Two programmable memory position buttons

Find your desired position, hold down the two memory buttons at the same time until the remote starts flashing
When the remote starts to flash, press one of the memory buttons to save your favorite position
Repeat the same steps to set the second memory position

Adjust the power lumbar, headrest functions independently with a touch of a button
Convenient USB charger port allows you to charge your smart device
*Pride® FDA Class II Medical Devices are designed to aid individuals with mobility impairments
Canyon Ocean
Specifications
| | |
| --- | --- |
| VivaLift Colour | Canyon Ocean, Canyon Silt, Canyon Steel, Canyon Walnut |
| Size | Small, Petite/Wide, Medium, Large/Tall |
| Positioning | Infinite Position |
| VivaLift Back Type | Deluxe Biscuit |
| Special Features | Cup Holder, Heat, Wireless Phone Charger |
Testing Standards & Warranty
Meeting and Exceeding High Standards for your Peace of Mind.
The testing requirements accepted by the FDA have been developed by the American National Standards Institute/Rehabilitation Engineering & Assistive Technology Society of North America (ANSI/RESNA). Our tests are conducted in accordance with the requirements of the ANSI/RESNA Test Standards and complement an additional strict testing regiment developed by Pride's Research & Development Team. All products have passed, and in many cases, exceeded test criteria set forth, assuring the high level of quality that Pride is known for. In addition to "real world" testing developed by Pride during more than thirty years of designing Lift Chairs, our products are subjected to a host of standardized testing criteria, including but not limited to:
ANSI/AAMI/ES60601-1, Medical Electrical Equipment--Part 1: General Requirements for Basic Safety and Essential Performance, and ANSI/AAMI/IEC 60601-1-2, Medical Electrical Equipment--Part 1-2: General Requirements for Basic Safety and Essential Performance--Collateral Standard: Electromagnetic Disturbances--Requirements and Tests
ANSI/AAMI/ISO 10993-5, Biological Evaluation of Medical Devices--Part 5: Tests for In Vitro Cytotoxicity, and ANSI/AAMI/ISO 10993-10, Biological Evaluation of Medical Devices--Part 10: Tests for Irritation and Skin Sensitization
IEC 62304, Medical Device Software--Software Life Cycle Processes
IEC 60335-1:2012, Safety of Household Electrical Appliances
ISO 14971 Medical devices – Application of risk management to medical devices
EN 12182, Assistive products for persons with disability. General requirements and test methods
Static Load and Stability Tests
Strength & Fatigue Verification Tests
Overall Product Performance Verification
Dimensional Requirement Compliance
Armrest Force Test
Material Protective Coating Testing Verification
Misuse and Abuse Testing
Ergonomic Verification
Environmental Testing for Adverse Conditions
Electronic Systems Performance and Durability
Chemical and Bio-Contamination Analysis Testing for Toxicity Verification
Cal 117 Flammability Test Compliance for Seating Foam and Fabric Components
UL94VO Flammability Testing for Compliance of Plastic Components
Electromagnetic Compatibility (EMC)
---
Warranty