A Legacy Of Memories
The Legacy 2 has all the same specifications as the original Legacy, alongside the addition of trendelenburg-like positioning and a memory hand control that allows you to save your favourite positions quickly and easily. The new benchmark for power lift recliners is here. When we talk about power lift recliners we talk a lot about form and function, but we don't always talk about feeling. The notalgia of walking into a room and seeing the chair that ties everything together. The space where you read the Sunday paper, watch your team bring it home again, or fall asleep to your favourite movie for teh hundredth time. That's what the Legacy 2 Collection is all about - making these preciosu memories. Enjoy customizable comfort with the power backrest, power lumbar and a full-width power headrest. With the USB remote with soft-touch buttons, you can adjust your position with one touch. Stretch out completely with the footrest extension. With an infinite number of position possibilities, you can find the level of support and comfort no matter how you choose to relax. Experience a gentle recline, knees up, feet out, while you catch up on some reading or watch your favorite show. The Legacy 2 Recliner leans back a little more for a quick power nap, or even extends all the way out, head back, legs out flat for deeper relaxation.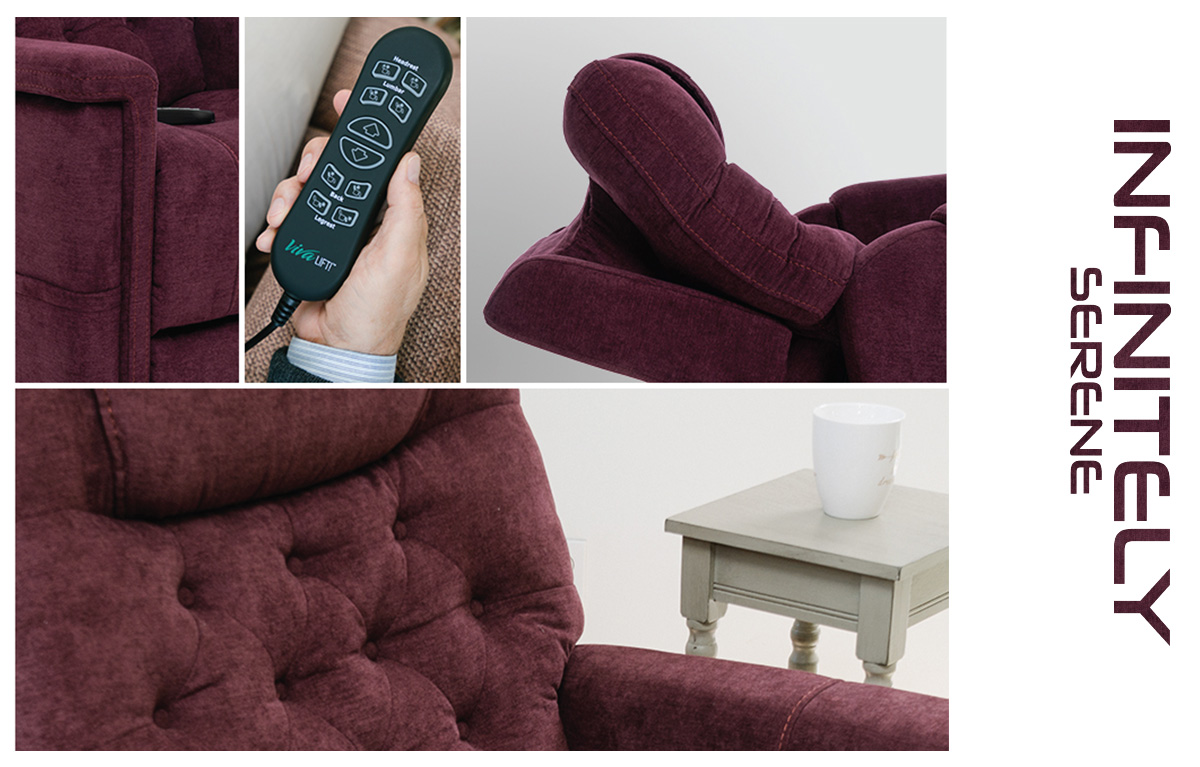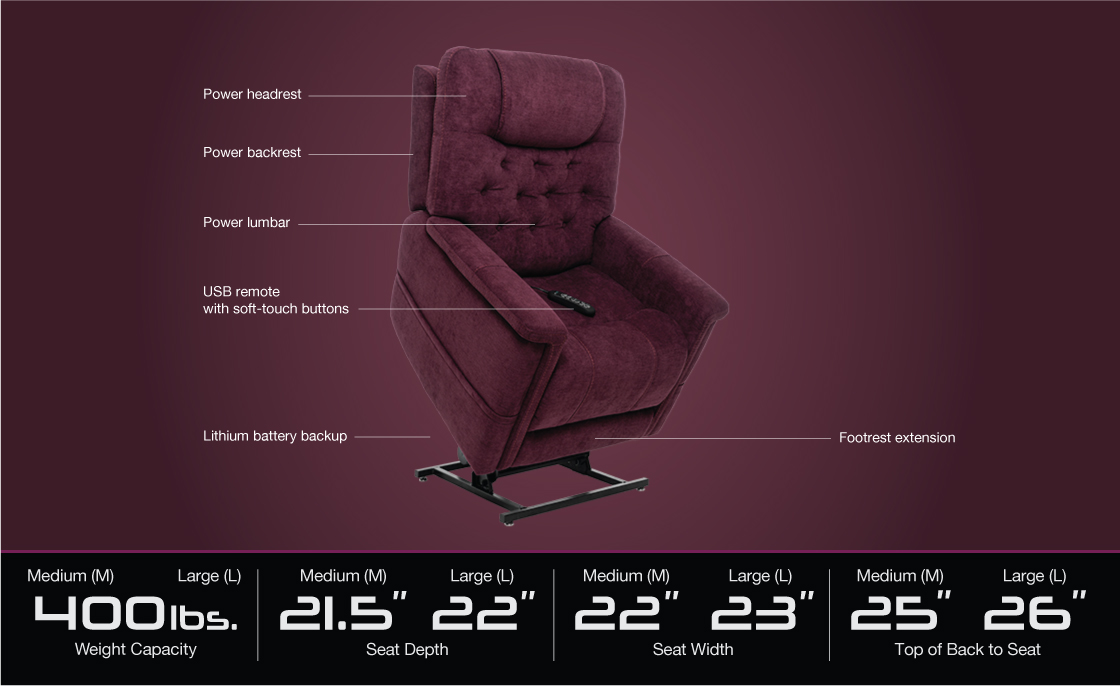 PLR-958 Features:
Trendelenburg-like positioning
Ergonomically designed memory button hand control
Power headrest
Power backrest
Power lumbar
Lithium battery backup
Footrest extension
*Pride® FDA Class II Medical Devices are designed to aid individuals with mobility impairments
Specifications
| | |
| --- | --- |
| VivaLift Colour | Saville Brown, Saville Grey, Saville Wine |
| Size | Medium, Large |
| VivaLift Back Type | Button |
| Positioning | Infinite Position |
Testing Standards & Warranty
Meeting and Exceeding High Standards for your Peace of Mind.
The testing requirements accepted by the FDA have been developed by the American National Standards Institute/Rehabilitation Engineering & Assistive Technology Society of North America (ANSI/RESNA). Our tests are conducted in accordance with the requirements of the ANSI/RESNA Test Standards and complement an additional strict testing regiment developed by Pride's Research & Development Team. All products have passed, and in many cases, exceeded test criteria set forth, assuring the high level of quality that Pride is known for. In addition to "real world" testing developed by Pride during more than thirty years of designing Lift Chairs, our products are subjected to a host of standardized testing criteria, including but not limited to:
ANSI/AAMI/ES60601-1, Medical Electrical Equipment--Part 1: General Requirements for Basic Safety and Essential Performance, and ANSI/AAMI/IEC 60601-1-2, Medical Electrical Equipment--Part 1-2: General Requirements for Basic Safety and Essential Performance--Collateral Standard: Electromagnetic Disturbances--Requirements and Tests
ANSI/AAMI/ISO 10993-5, Biological Evaluation of Medical Devices--Part 5: Tests for In Vitro Cytotoxicity, and ANSI/AAMI/ISO 10993-10, Biological Evaluation of Medical Devices--Part 10: Tests for Irritation and Skin Sensitization
IEC 62304, Medical Device Software--Software Life Cycle Processes
IEC 60335-1:2012, Safety of Household Electrical Appliances
ISO 14971 Medical devices – Application of risk management to medical devices
EN 12182, Assistive products for persons with disability. General requirements and test methods
Static Load and Stability Tests
Strength & Fatigue Verification Tests
Overall Product Performance Verification
Dimensional Requirement Compliance
Armrest Force Test
Material Protective Coating Testing Verification
Misuse and Abuse Testing
Ergonomic Verification
Environmental Testing for Adverse Conditions
Electronic Systems Performance and Durability
Chemical and Bio-Contamination Analysis Testing for Toxicity Verification
Cal 117 Flammability Test Compliance for Seating Foam and Fabric Components
UL94VO Flammability Testing for Compliance of Plastic Components
Electromagnetic Compatibility (EMC)
---
Warranty