With carbon fiber technology, the Jazzy Carbon Power Wheelchair becomes your greatest travel companion.
You know Jazzy for its industry-leading performance and quality. Now let's talk about portability. Jazzy Carbon uses ultralight but exceptionally strong carbon fiber technology for its frame and a lightweight, reliable lithium-ion battery. Travelers keep their Jazzy Carbon charged and standing by for spontaneous jet-setting adventures. They know it breezes through airport security, easily stows on the plane and gives them the mobility support they need to make the most of their travels. Weighing in at a stunning 43.6 pounds, Jazzy Carbon still provides top speeds up to 5.9 km/h with a weight capacity of 300 pounds.
When does a folding power chair also put comfort first?
Jazzy Carbon folds down in just a few quick motions, which makes it easier to transport in cars, planes and trains. But don't let portability fool you. Jazzy Carbon has tall, terrain-dominating wheels and a front-end suspension system, plus a comfy seat cushion to sustain you through everything your busy day throws at you. Maybe you're taking a weekend trip to visit the grandkids, and they've got your Saturday booked with stops at all their favorite places. Or maybe you and your pals are taking a once-in-a-lifetime trip to an all-inclusive resort, and you don't want to miss a single moment of it. Jazzy Carbon gives you mobility and control to do it all.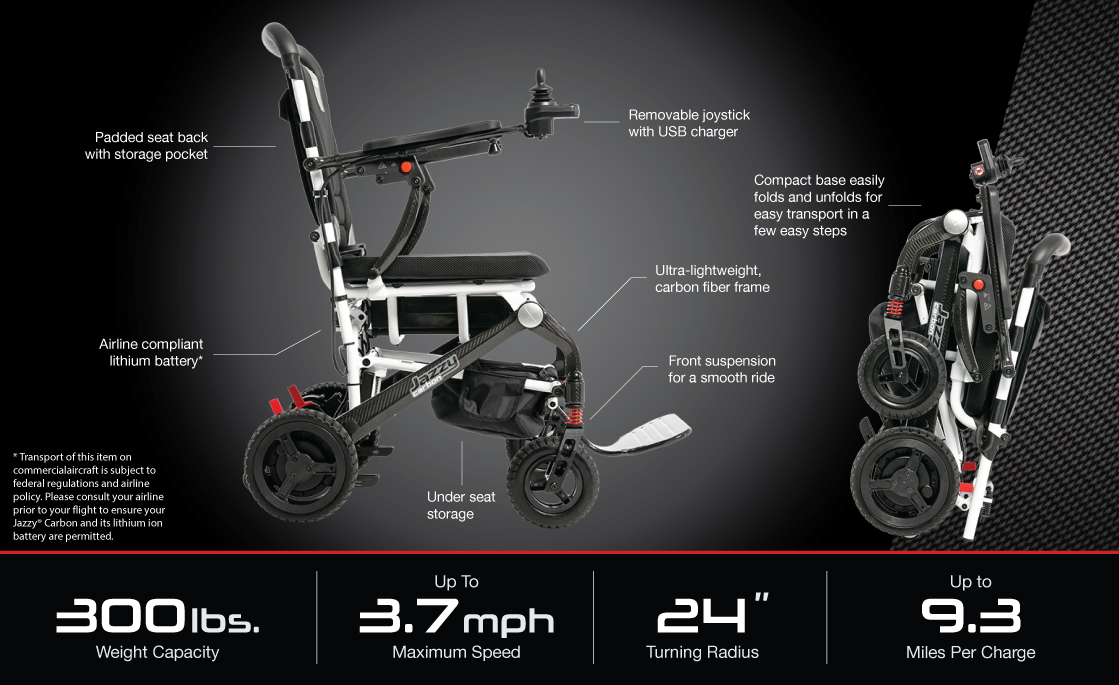 Jazzy Carbon Features:
Black product images for display purposes, available in Canada in White Colour only.
300 lb. weight capacity
Removable joystick for transporting with built in USB charger
Airline compliant lithium battery**
Front suspension for a smooth ride
Ultra-lightweight, carbon fiber frame specifically designed for traveling
Compact base easily folds and unfolds for easy transport in a few easy steps
Padded seat back with storage pocket and soft, removable seat cushion for all-day comfort
Free-wheel levers to easily disengage the brake allowing this lightweight power chair to be pushed like a manual chair
Included under-seat storage and adjustable lap belt
When folded 28.3"x12.2"x24"
*Pride® FDA Class II Medical Devices are designed to aid individuals with mobility impairments **Note: Transport of this item on commercial aircraft is subject to federal regulations and airline policy. Please consult your airline prior to your flight to ensure your Jazzy® Carbon and its lithium ion battery are permitted.
Specifications
| | |
| --- | --- |
| Colour | White |
| Suspension | Limited |
| Weight Capacity | 300 lbs |
| Battery Type | Lithium-ion |
| Turning Radius | 24" |
| Maximum Speed | Up to 6.0 km/h |
| Ground Clearance | 2" |
| Overall Length | 37" |
| Overall Width | 24" |
| Seat-to-Ground Height | 19" |
| Front Wheels | 7" |
| Rear Wheels | 8.5" |
| Battery Sizes | 24V 12 Ah (288WH) |
| Total Weight Without Batteries | 39 lbs. |
| Total Weight With Batteries | 43.6 lbs. |
| Maximum Seat Size | 17" x 17" |
| Standard Seating | Material: Black, Foam |
| Drivetrain | 24v/250W Brushless motors |
| Standard Electronics | 35A Brushless Micon |
| Braking System | Regenerative and electromechanical |
| Battery Charger | Off-board, 2-amp lithium-ion |
Testing Standards & Warranty
Meeting and Exceeding High Standards for your Peace of Mind.
Your Pride product has undergone thorough product testing to ensure safety, durability and performance. Our power chairs, scooters and lift chairs are Food & Drug Administration (FDA) approved medical products that require specific testing prior to release for public use. The testing requirements accepted by the FDA were developed by the American National Standards Institute/Rehabilitation Engineering & Assistive Technology Society of North America (ANSI/RESNA). The tests are conducted in accordance with the requirements of the ANSI/RESNA Test Standards and complement an additional stringent testing regiment developed by Pride's Research & Development Team. All products have passed, and in many cases, exceeded test criteria set forth, assuring the high level of quality synonymous with Pride.
Some of the items our testing criteria include are:
Product Stability & Brakes Effectiveness Tests
Fatigue & Impact Strength Verification Tests
Overall Product Performance Verification
Dimensional Requirement Compliance
Product Durability & Reliability Testing
Material Protective Coating Testing Verification
Misuse and Abuse Testing
Ergonomic Verification
Environmental Testing for Adverse Weather Operation Conditions
Electronic Systems Performance and Durability
Chemical and Bio-Contamination Analysis Testing for Toxicity Verification
Cal 117 Flammability Test Compliance for Seating Foam and Fabric Components
UL94VO Flammability Testing for Compliance of Plastic Components
Electromagnetic Compatibility (EMC)
---
Warranty
Lifetime limited on frame;
1-year limited on electronics;
1-year on drive motors
1- limited on batteries.
Resources
Brochures
Owner's Manuals